Stop
Starving Yourself
&
Drop
Up to 5 Pounds
in the First Five Days!
*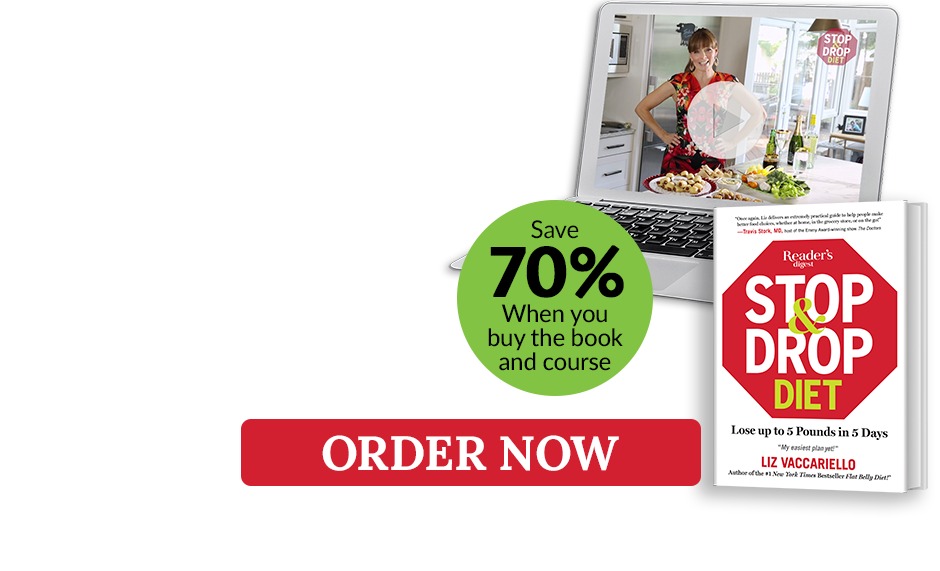 LIMITED-TIME OFFER
Lose Weight Anytime, Anywhere!
Stop & Drop Diet is a weight loss plan designed for every person, every lifestyle. Whether you cook at home, shop the frozen food aisle or prefer restaurants, take out or fast food, Stop & Drop Diet shows you how to stop eating the unhealthy, high-calorie version of any meal you like and start eating the delicious healthier version.
Your Book Includes:
21-day completely customizable diet

Your choice of 200+ quick and easy breakfasts, lunches, dinners and snacks

700+ food swaps with helpful color photos

Everyday ingredients plus easy-to-follow meal plans
The Stop & Drop Diet ONLINE COURSE is designed as a companion to the book. It features a downloadable, printable version of the three-week diet, plus daily motivation and healthy eating lessons!
Stop & Drop Diet Online Course Includes:
21 videos from Liz designed to motivate and teach
Fun lessons on specific foods, tricky diet traps and surprising fixes
Interactive tools and graphics
Downloadable and printable meals for the 21-day diet
Works on any device!
Liz Vaccariello, Author of the #1 New York Times Bestseller Flat Belly Diet™!
Try Our Mix & Match, 3-Phase Meal Plan!
Kickstart:
(1,200 calories)
Get fast results with this no-brainer weight loss plan that offers 3 filling meals and 1 delicious snack a day.
Steady Loss:
(1,600 calories)
Stay constantly energized as you reach your goal weight with this plan packed with 3 hearty meals and 2 satisfying snacks a day!
Maintenance:
(2,000 calories)
Once you hit your goal, this meal plan helps you fold an even wider variety of food into your diet while you stay slim.